The company Malavasi was born in Carpi in 1958 to Bruno Malavasi initiative, father of the three brothers who have inherited and are carrying out, thanks to his passion for the trade constituted a wholesale textile waste failing to make known its activities both in areas of lower Biella and Piedmont, which, in particular, in the district of Prato. The company, now run by brothers Maurizio, Marco and Enrico, has specialized in the collection, differentiation and resale in stock YARN and FABRIC. Currently the collection, as well as resale, have expanded to various parts of Italy, and not just at the Carpi district.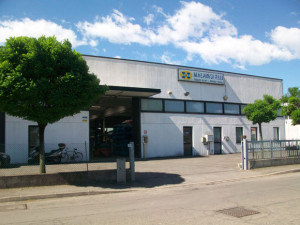 The variety of products offered, combined with the guarantee of a complete service on a customer, are the key to business success, with pride, he has just passed its first 50 years. Numerous, and increasingly frequent, even contacts with foreign countries and with countries such as Bulgaria, Germany, Ukraine, Turkey and Egypt, to name a few. In its 1500 square meters of storage and display products, the company's headquarters, it is possible to inspect a wide range of yarns, fabrics, textile products for fashion bags and furniture, as well as heads of CLOTHING and FOOTWEAR discontinued, in quantities variables, TEXTILE PRODUCTS for industry, various lots of trimmings and haberdashery.
The company Malavasi Fratelli in Carpi has three department stores to contain a wide range of fabrics, yarns, stock apparel and trimmings.
Large rooms where, in organized shelves, they show all products of the company.
The three ships are equipped with forklifts for moving the pallets facilitated and large quantities of material.